We have a free soccer clinic for all kids ages 6 years to 16 years every Saturday from 2pm – 4pm at the BJM Esty Street Field (next to GIAC) in Ithaca NY.
This is a great opportunity for kids to learn to play the beautiful game from experienced coaches at no cost to any parent or guardian. Don't let your kid miss out on this wonderful opportunity.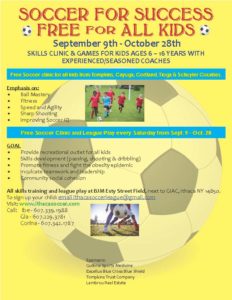 To sign up your kid, email Ithacasoccerleague@gmail.com and note your kid's name and age.